One of the components of the JCU- UN Women programme focuses on conducting the Prison Decongestion Programme aimed to help women in prisons. Pictured is 19 year old Mirembe (not real name) posing with the JCU Advocate of Mmengo Centre, after being released from Kigo Prison.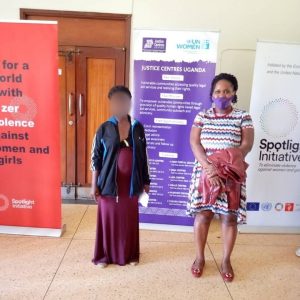 Mirembe was identified during a prison outreach carried out at Kigo Prison where 127 women were reached out to and taught about JCU's free legal services and plea bargain. Mirembe had been arrested on theft charges after she purchased a stolen phone and remanded at the prison for six months.
Sadly, at the time of her arrest, she was one month pregnant and the prison conditions had been unbearable to her in her current state. Upon finding out about Mirembe's condition, Mmengo Centre decided to make it a priority and took it on.
Mmengo Centre represented Mirembe in a plea bargain session at Makindye Court, which was held on 13th October 2020.
As a result of JCU's intervention, Mirembe was sentenced to two (2) weeks community service which she served and completed. She is now a free woman, happily reunited with her family. Justice was brought home and a young expectant mother was finally rescued from detention.