This story involves 20-year-old Angela whose share of land had been taken away by the family members. Angela's father passed on in 2021 and left a piece of land in Gonnee Lower village which she had been utilizing ever since. Her being an only child and without a mother, made her vulnerable and prone to her relatives' deceitful behavior. In January 2023, the clan leader, without Angela's knowledge, distributed the said land among Angela's aunties, leaving her with a very small share.
Angela decided to seek legal support by reporting the matter to JCU Bundibugyo. An office mediation was conducted where all parties were heard. A JCU lawyer taught the parties about the law on succession, clearly indicating that Angela was the rightful beneficiary to her father's land. A resolution was reached to conduct a locus mediation to visit the land. Upon sensitizing all parties and community members, the parties agreed to redistribute the land equally amongst themselves and all parties signed a Memorandum of Understanding to that effect.
Harmony and togetherness were restored amongst the relatives. Angela was given land measuring 78ft by 123ft, one aunt was given land measuring 97ft by 123ft and the other was given land measuring 56ft by 142ft. After the locus mediation, community members appreciated the law on succession and women's property rights.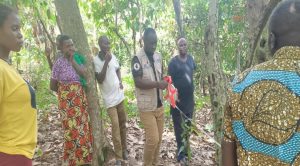 JCU lawyer with the parties, demarcating the land.